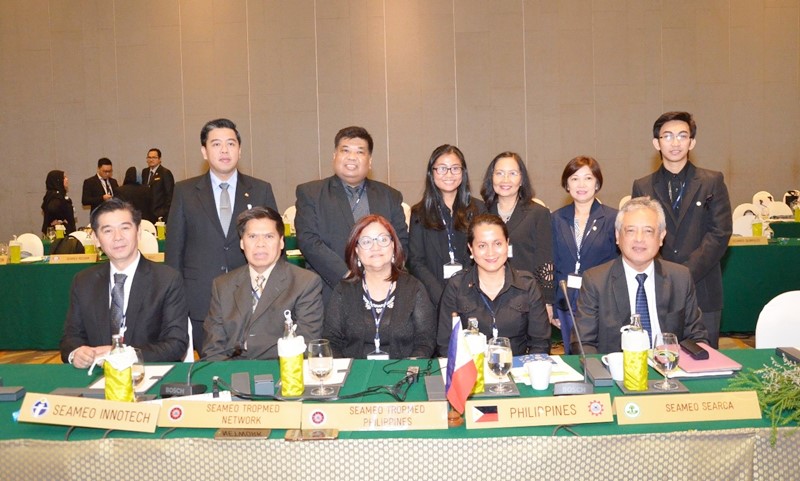 The SEARCA delegation joins representatives of other SEAMEO Centers in the Philippines during the 39th HOM.
BANGKOK, Thailand – SEARCA, led by Dr. Gil C. Saguguit, Jr., SEARCA Director, participated in the 39th High Official Meeting (HOM) of the Southeast Asian Ministers of Education Organization (SEAMEO) held at Amari Watergate Hotel in Bangkok, Thailand on 15 – 17 November 2016.
The Meeting, hosted by the Ministry of Education (MOE), Thailand and convened by the Southeast Asian Ministers of Education Organization Secretariat (SEAMES), brought together vice-ministers, permanent secretaries, and high-level education officials from SEAMEO member, associate, and affiliate member countries, SEAMEO Regional Centers/Network, and international and regional partner organizations.
His Excellency General Dapong Ratanasuwan, SEAMEO Council President and Minister of Education of Thailand presided over the opening ceremony. In the meeting, Dr. Saguiguit together with Dr. Maria Celeste H. Cadiz, Program Head of SEARCA's Knowledge Management Department (KMD) presented the Center's proposed Southeast Asian AgriMuseum and Learning Center on Agricultural and Rural Development in Southeast Asia. The HOM accepted and supported the proposal and was endorsed for support of interested government and organizations.
Also joining the SEARCA delegation to the HOM were Ms. Elma M. Banzuela, Purchasing Assistant, General Services Unit (GSU), and Mr. Anthony L. Sarino, Treasury Assistant, Treasury Services Unit (TSU). Their participation was part of SEARCA's Staff Development Program.